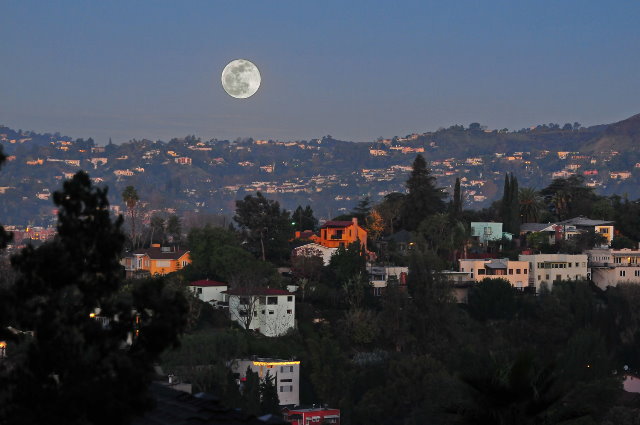 During my trip to LA back in 2005, I decided to go on a "ghost tour".
We wound our way through he Hollywood Hills (much to the protests of my stomach which had taken in some hot, spicy pasta and some wine about an hour before). At one point, our duteous (and dubious) driver stopped at the side of the road and told us we could get out and have a look around. We did. I walked a few yards and looked south to see the Los Angeles Valley stretched out before me. The City was covered in a thick blanket of fog and it added an etherealness to the night.
As I looked out upon the fog enshrouded city a mother and her preteen daughter stood next to me and the little girl said, "Mommy, I don't like it here. Can we go?" The mother said everything would be okay but the girl was adamant. "Something bad is here. Let's go." The mother said it was just her imagination. At this point, I spoke up and said, "I believe your daughter is quite correct. I feel it, too."
There was a heaviness in the area as if the very air which surrounded us was negatively charged. She looked at me for a moment then nodded with a look of uncertainty in her eyes. We went back to the van and when we were all gathered round the Guide, he told us that we now stood in front of the gate which once lead to the residence of Roman Polanski and his wife, Sharon Tate. I heard another tourist mutter, "Jesus...".
We left that place and went up around the hill to the former estate of Rudolf Valentino: Falcon's Lair. Not long afterwards we wound our way back down into the city. I had begun to sweat and was slightly nauseous. As we entered West Hollywood I asked the Guide to stop and let me out.
"But we still have 3 more places to go."
I told him I was about to be sick, so he let me out. As I walked the rest of the way to my hotel, I lost my dinner in some bushes. Was it just the hills and the winding roads that we drove thru or was it something else?